Summer is a great time of the year. Lots of events take place during this time. Some of the famous ones include musical events, ethnic festivals, outdoor movie nights, parades, arts festivals, and many more. As the days are comparatively bigger and the weather is pleasant, people like to spend time outside. For Food Industry, it's a great time for businesses to grow and flourish. One such event beneficial for this industry and also the foodies is the Food Truck Festivals. This is an event where lots of food trucks gather at the same place. It's a great attraction for people who like to try out new cuisines and love spending time outside during summers.
What's in for the Food Truckers?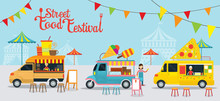 Food Truck Festival can be a great marketing opportunity for the truckers. So, truckers, don't limit yourself to those everyday spots. Explore more options! One such event itself will offer you high customer inflow and new customer base that too in a very short time. If you focus on giving your best shot, these customers will want to visit you again. Food truck festivals are the right place to get your future loyal customers.
Also, as these events are of a short period of time, you don't have to worry about losing your everyday crowd while wanting to go to the event. You can plan your schedule accordingly and let your customers know way ahead of time. Also, once you get used to it you can keep attending these events and also go to other events where food trucks are welcomed! There are so many events nowadays that prefer food trucks than catering services.
Steps to register your Food Truck in the Events :
The first step is to find the right Event for your Food Truck which suits your offerings.
Once you pick the event, the next step would be applying for the right spot. It's important to shine amongst the many food trucks out there and a good spot would do half your work!
Prepare a great application with your USP at the top. It's very important to make the event planner understand why you are a great fit for the event. As you would be competing with a lot of food trucks, this application would help you get chosen among the lot.
Last, but not least submit your application before the deadline.
One important thing to keep in mind once you get selected is that it's very easy for customers to put a bad review on yelp. So, it's crucial for you to put your best foot forward and give your customers top service. Be thoroughly prepared before entering such events.
What's in for the Foodies?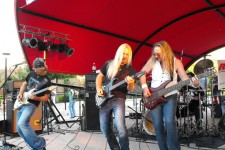 For most of these festivals, the entry is free of cost! Food trucks are attractive and fun to have in the events. Moreover, the variety of cuisines they offer and that too at the same place makes customers even more excited. Being an outdoor event, it not only offers great food but also live music, DJ and various fun activities and entertainment that creates a lively vibe. It's a great place to hang out with your friends, wherein you get to have your favorite cuisine and also enjoy the lovely ambiance. Also, a great place to go out with your kids and family.
Checkout My Foodie Truck :
My Foodie Truck is a Food Truck Locator App. It gives a great Customer base to the Food Truckers. By just downloading the app and signing up (which is free of cost) you will get added into our network and people would be able to view you and track you. It would be a great opportunity for you to reach out to more customers through our website https://www.myfoodietruck.com/ and Mobile App.
Also for the Foodies, through this app, you can locate delicious food with just one click. The hassle of finding your favorite food truck is finally over. So go and check out My Foodie Truck App right now!